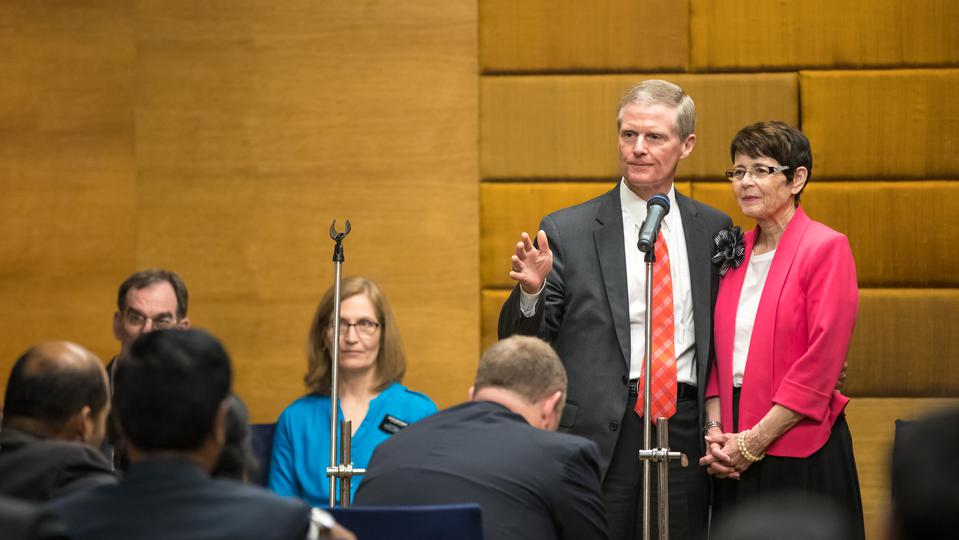 In the spirit of ministering, Elder David A. Bednar and Sister Susan K. Bednar shared their love and teachings with the members of the Church during a recent trip to the Asia Area from May 17-28, 2018.  
In a busy schedule that included stops in Mongolia, Hong Kong, Cambodia and India, Elder and Sister Bednar participated with members in various settings that included devotionals, training meetings, missionary gatherings, question and answer sessions and the first country-wide For the Strength of Youth (FSY) Conference in India. In addition, Elder Bednar was able to meet with government and Red Cross leaders in Cambodia.
Participating in the India FSY Conference was a special opportunity for Elder Bednar. Nearly 500 youth and young single adult counselors from all parts of India attended. The youth came prepared to be edified and taught by a member of the Quorum of the Twelve Apostles. Elder Bednar was able to instruct, inspire and encourage these future leaders in a country where the Church is developing rapidly. 
In each country, Sister Bednar shared not only her love and support of Elder Bednar but bore witness of the knowledge she has of his divine calling. She testified that he is an Apostle of the Lord Jesus Christ by whom he is sustained and receives regular inspiration and of whom he bears a special witness. 
While in Hong Kong Elder and Sister Bednar attended a combined sacrament meeting with branches from the international district, as well as a question and answer session with the Young Single Adults. In each setting, Elder Bednar shared his experiences as one of only 13 people on earth who know what it is like to actively participate in the orderly transition to a new prophet of the Lord and president of the Church. 
"When a prophet draws his last breath, the First Presidency is dissolved, and the presiding quorum is the Quorum of the Twelve," Elder Bednar explained. "There is not any question as to who will be the next President. ... The call of President Russell M. Nelson began 34 years ago when he was called as an apostle and received the [priesthood] keys."
In Mongolia, Elder Bednar encouraged the missionaries and their investigators to be taught by the Spirit, which are the thoughts and feelings they receive from the Holy Ghost, not simply relying on what others say. He also shared with the members the importance of the ordinances, that they should be primary in their lives and should be honored. 
In Cambodia, besides meeting with missionaries and members, a meeting was held with leaders of the Ministry of Cults and Religion as well as the Secretary General of the Cambodian Red Cross.  These meetings will allow the Church to further develop relationships with government leaders and provide coordinated support to humanitarian efforts throughout Cambodia. 
Elder and Sister Bednar were accompanied on their visits by members of the Asia Area Presidency, including Elder Randy D. Funk, Area President, and Sister Andrea Funk; Elder David F. Evans, first counselor, and Sister Mary Evans; and Elder Peter F. Meurs, second counselor, and Sister Maxine Meurs.