Elder Neil L. Andersen of the Quorum of the Twelve Apostles of The Church of Jesus Christ of Latter-day Saints ministered to Latter-day Saints in Thailand with his wife, Kathy, on January 12-13, 2020. 
"I don't get the privilege to come to Asia very often," Elder Andersen said as he expressed his excitement to be amongst the people of Thailand, where members of the Church occupied only 0.03% of the country population. The last time he visited the country was in 2013. "I want to hug you all or 'wai' (Thai bow) to each of you."
For their two-day visit to Bangkok, Elder and Sister Andersen were accompanied by the Asia Area President, Mission President of the Thailand Bangkok Mission, the Thailand Area Seventy and their wives – President David F. Evans and Sister Mary Evans, President Todd M. Hammond and Sister Noelle Hammond, Elder Wisit Khanakham and Sister Sumaman Khanakham. 
They traveled from stake conference to devotionals to family home evening where they addressed to members and missionaries about the significance of the Bangkok Thailand temple, which began construction almost a year ago on January 26, 2019.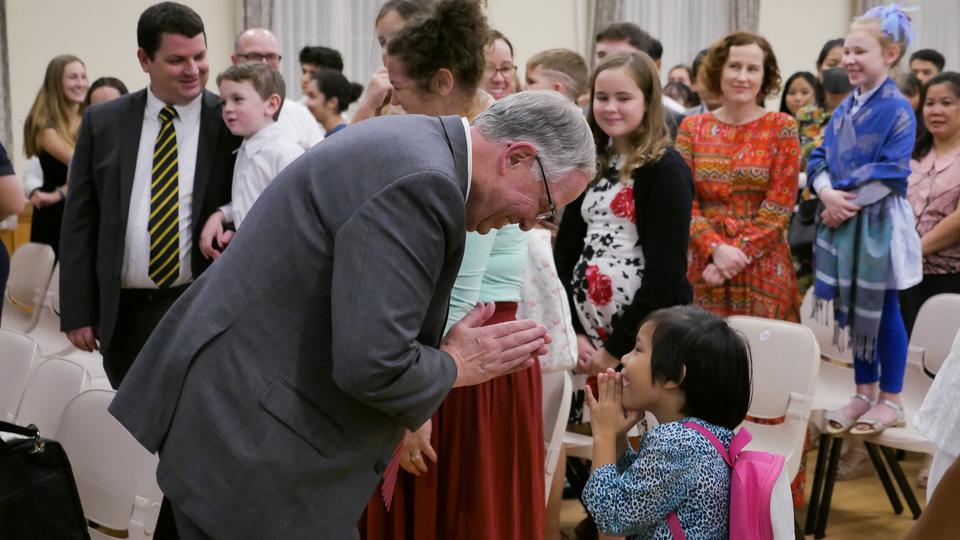 "It's a miracle that we have [the] property because we could never buy it today," said Elder Andersen, explaining how President Gordon B. Hinckley, president of the Church from 1995 to 2008, was inspired to buy the temple property years ago before land prices soared. "I believe that the Lord knew His temple would be [here]," he added. 
He said Church leaders want the Thai members to staff the Bangkok Temple. What is more important than the temple is the spiritual preparedness of the saints. 
"It's easier to build a temple than a temple worthy people," Elder Evans echoed as he encouraged Church members to bring the blessings of the temple into their personal lives.  
He suggested that parents take their children to the temple site for family home evening a couple times a year. He encouraged the individuals to take the subway and walk by the site once or twice a year. He urged older members to ask, "How do I become an ordinance worker?"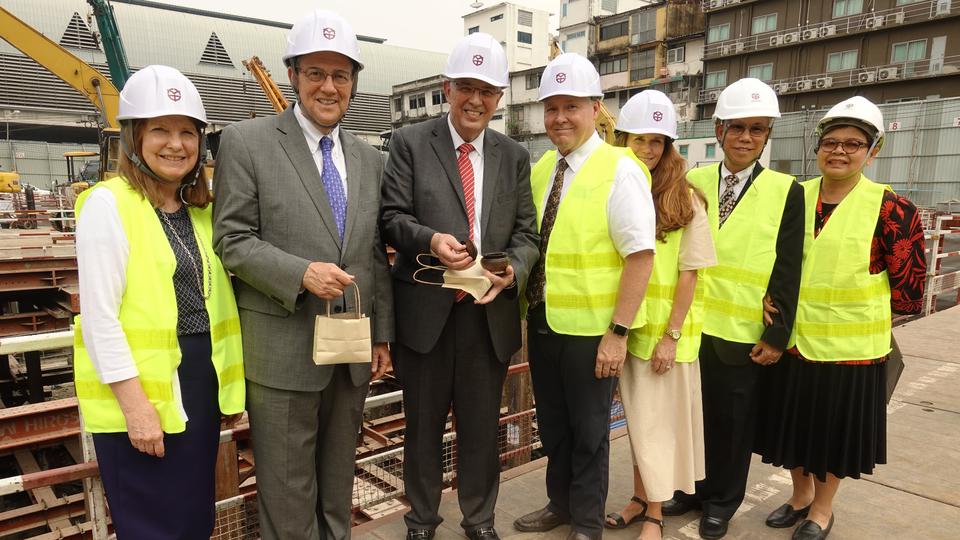 His counsel was supported by Elder Andersen who emphasized the parental role of nurturing children in the home, passing down the gospel to the next generation, especially in a country where Christianity is the minority. 
"How is it that you believe and so many others do not?" he asked. "Your faith is not in vain…The Church grows slowly but surely in Thailand. We need to do a better job with our children and young people. We must share our testimonies with them."
Missionary work, according to Elder Andersen, is as important as personal spiritual development. When he spoke to the young single adults, he encouraged them to serve a mission to find God's lost sheep. 
"If you have the desire to serve the Lord, He will prepare the way for you," he said. "You will never regret it."
"Here we have to get a conviction of Jesus Christ way down deep into the bones, into the DNA," he said when speaking to the 120 missionaries serving all over Thailand and Myanmar who carry a tremendous responsibility of sharing the gospel of Jesus Christ in this Buddhist nation.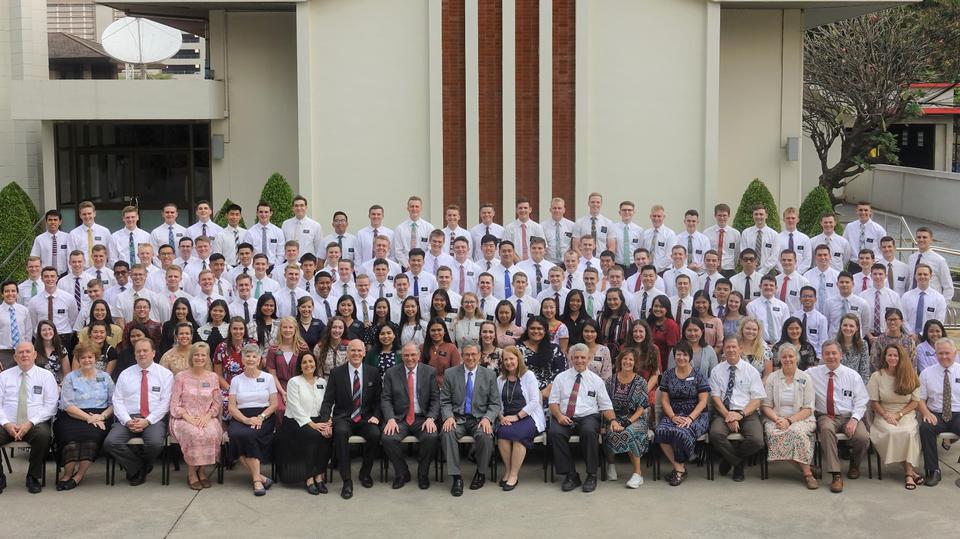 Elder Evans encouraged the missionaries to help the local saints prepare to go on a mission. 
"If you want to make a difference here, find someone to go with you, show them how you do missionary work, and help them serve a mission," he counseled with great enthusiasm. "Give these young people a vision of who they can be, what they can be, and what they can do with their young adult life." 
Elder Andersen repeatedly expressed his love and appreciation for the faithful members and missionaries of Thailand. He said it takes a special person to accept Jesus Christ, attend church, and hold onto their faith in Thailand compared with other countries where Christianity is prevalent. 
"We are the salt of the earth in Thailand," Elder Andersen said. "We are just a small group but we must let our light shine."