On Saturday, December 17, 2022, the first ever Asia Area Christmas Devotional presented by members of The Church of Jesus Christ of Latter-day Saints in Asia will be available for viewing on Church YouTube channels. Created with love to the world, the 50-minute long devotional marks a significant milestone by bringing together members across Asia in experiencing the true spirit of Christmas through the rich cultures, languages and testimonies of Asia.
Although Christmas is a major season around the world, in Asia it is perceived more as a commercial holiday. Hence, the purpose of the devotional is to teach people about the birth of Christ, explain the true reason why we celebrate Christmas, and motivate people to think about ways to follow the Savior's example. Scripture references to the nativity and questions to ponder are incorporated into the devotional to encourage reflection on these spiritual themes.
The devotional features a medley of Christmas music and performances from participating congregations in Cambodia, Hong Kong, India, Indonesia, Malaysia, Singapore, Taiwan, Thailand and Vietnam. Amongst its diverse musical offerings are choral music, duets by concert pianists and female vocalists, and traditional instruments in local music arrangements. The talents of Asia are on accompanying display in nativity re-enactments, dramatizations, dance, native costumes, specially transformed indoor meetinghouse sets and stunning scenic locations.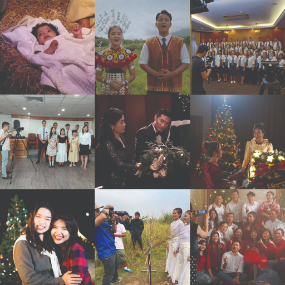 Described as a miracle in the making, the devotional was initiated by directors of Communication Councils across Asia. The format was determined to be a video broadcast with different groups being allotted five minutes to perform a Christmas song to their chosen nativity theme and left to their creative devices. Although many involved had no prior production experience, this leap of faith was taken altogether with many precious memories made. Some of these have been documented as behind-the-scenes interviews and photographs which are also available for view on Church social media.
As a result, the final devotional is a celebration of the nine unique and utterly authentic performances, focusing on Asian perspectives yet resonant as it showcases members' talents and testimonies in an unforgettable way. It was recorded in six languages: English, Indonesian, Khmer, Mandarin, Thai and Vietnamese; and is available for viewing in those languages as well as Cantonese and Malay. A summary of key highlights from each video presentation is highlighted below:  
Singapore - Filmed at a colonial bungalow which is the site of the current Pasir Panjang Chapel and will make way to become the future Singapore Temple, Singapore's performance is presented by an over 35-pax strong choir with soloists and an epic local music arrangement.
Hong Kong - Featuring a classical duet by concert pianists, Hong Kong's performance is the only instrumental piece in the Devotional.
Cambodia - A female vocal duet featuring traditional costumes in a transformed indoor chapel set perform a sweet Primary song.
Vietnam - A beloved Christmas hymn is sung by an intimate member and missionary choir.
India - An indoor chapel set is completely transformed into an elaborate manger scene in this full Nativity re-enactment by India focusing on the baby Jesus. The music is also locally arranged and synthesized.
Malaysia - A compilation of Nativity re-enactment, dramatizations, and brief interviews on the meaning of Christmas, Malaysia's performance features native Dayak costumes and shares the culture of Sarawak and reflections of faith. Parts of the presentation were filmed at the scenic Kampong Panchor Dayak.
Indonesia - Shot in the majestic outdoors of Goa Lalay, a local music arrangement using traditional instruments offsets a trio of singers in traditional costumes, and a pair of modern dancers. Indonesia's video also blends animation and family scenes with computer-generated imagery.
Thailand - A heartwarming Christmas hymn is scored with traditional instruments and backed by an over 20-pax strong choir in an indoor chapel set transformed with fairy lights and Christmas trees.
Taiwan - A dramatization unfolds while a female vocal duet reinterprets a song from For the Strength of Youth in an outdoor night scene.
The Asia Area Devotional Broadcast can currently be viewed at the following Church YouTube channels by language: English, Cantonese, Indonesian, Khmer, Malay, Mandarin Chinese, Thai, Vietnamese
Units across Asia can also request a high-resolution version from their respective Area Seventies to broadcast in-person at meetinghouses.