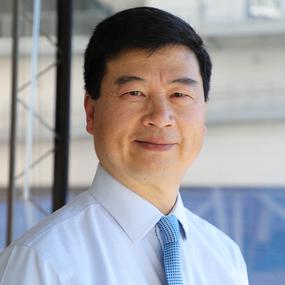 "I wasn't aware of how big of a deal this was in Taiwan until I walked into the press conference with a room full of reporters," said Dr. Kwok Pui-Yan, a member of The Church of Jesus Christ of Latter-day Saints, following his recognition as Academician of the Academia Sinica in Taiwan this July.
Academician is the highest honor given to scholars and scientists in Taiwan. Dr. Kwok is the only foreigner to receive the distinguished honor this year and one of only three individuals from Hong Kong to ever receive the award.
With such a noteworthy career in the field of biomedical science and an equally impressive resume that includes MD and Ph.D. degrees from the University of Chicago, how would Dr. Kwok explain his religious conviction to others, especially scientists, who may question spirituality and the existence of God?
"They are simply taught the wrong God," he said. "The God I know and believe in makes sense. Scientists do experiments—I have put my faith to the test. Faith makes everything logical and is a means by which I have discovered truth for myself."
Dr. Kwok splits his time as a professorship at the University of California San Francisco (UCSF) with his role as Director of the Institute of Biomedical Sciences at the Academia Sinica in Taiwan. At the Taipei institute, he conducts his own research and oversees a staff of 900 professionals, including 50 professors. Until August of 2017, he also served as the leader of the San Francisco Stake of The Church of Jesus Christ of Latter-day Saints overseeing multiple congregations of hundreds of members.
Dr. Kwok is used to having multiple responsibilities and has maintained this same secular and religious balance throughout his life, first serving as a mission at age 19 in Hong Kong. He continued this pattern as he pursued his education, raised a family and advanced his career, all while simultaneously serving in a variety of Church roles, including bishop over a congregation in St. Louis, Missouri.
"As I have served in different calling or capacities, I have consistently been able to receive inspiration and revelation to fulfill my responsibilities," Dr. Kwok explained. "It makes it real. It has allowed me to be confident in what I'm doing and to have the assurance that the gospel is true."
Dr. Kwok shared a refreshing philosophy when asked how he handles the ethical and political challenges that come with the notoriety and success he has achieved in the upper echelons of academia and research.
"I have never been concerned with competition. If I have 50 ideas and others steal 40 of them, I still have 10 ideas to work on. It's all for the advancement of science, so the more that pursue the ideas, the better," Dr Kwok said.
He further added, "I myself have benefited from generous mentors who have been very open and supportive. We are all part of the same research community working toward the same end. I have tried to do my part in being honest and fair, and things have worked out."
Though Dr. Kwok had always excelled academically, it was not an easy transition from the education system in Hong Kong to the education system in the U.S. at the University of Chicago as a freshman.
He said, "In Hong Kong, students are deferential to the teacher and absorb what the teacher tells them. Testing is based more on comprehension. In the U.S., the expectation is to think more on your own and to look at things critically, so testing is more aptitude-based."
He interrupted his university studies after his first year to return to Hong Kong to serve a Church mission and attributes much of his later academic success to the skills and experience he gained on his mission.
"On my mission, I had the chance to apply the critical thinking and problem-solving skills that were needed in the U.S. university system. My mission president also taught me how to seek spiritual guidance, which I have been able to apply all throughout my life," Dr. Kwok said.
Young Church students across Asia and most everywhere wonder how to manage the pressures and demands to succeed academically and still fit in time for spiritual growth. Dr. Kwok offers his advice having once been in their shoes.
"Kids need to seek spiritual experiences. As they learn to develop and exercise faith, school and everything else will fall into place. God helped me accomplish more in less time," he shared.
His practical advice for his own children is patterned after his personal formula for success.
"I have encouraged my children to focus on what is important, spend time on what they're good at and find something they're passionate about," Dr. Kwok said.
Dr. Kwok always made it a practice to keep Sunday free for church service and family time. His three children are all excelling in their own academic and professional pursuits and have learned how important the balance of faith is in their lives.
"Our children saw the gospel in action as they were growing up," Dr. Kwok shared.
"We went to church, I accepted callings and had many spiritual experiences. Heavenly Father blessed me to manage the different aspects of my life. He placed people in my path to help me succeed. God blessed me in my discoveries," Dr. Kwok explained.
Dr. Kwok's research is at the forefront of developing and applying tools for genetic analysis to interpret complex genetic traits. He is equally diligent in learning by faith and seeking spiritual understanding. Both have been an integral part of his accomplishments and success in life.