August marked a special month for Sister Joy D. Jones, Primary general president, and Sister Michelle D. Craig, first counselor in the Young Women general presidency, as it was their first visit together to the Asia Area on behalf of The Church of Jesus Christ of Latter-day Saints.
Sister Jones and Sister Craig were accompanied by their husbands and members of the Asia Area Presidency – Elder Peter F. Meurs and Elder David P. Homer – and their wives. The Church leaders visited Malaysia, Indonesia, and Taiwan from August 15 through 24, 2019.
"We are so grateful to be here," Sister Jones said in an interview. "It is a privilege to be with [Church] members and those not of our faith… The wonderful things that we learn being here help us so much to understand better about the world at large."
"It is a worldwide Church," Sister Craig echoed. "We are here to learn the challenges, the opportunities and the strengths of the people here, and as we go back to Church headquarters, we can take what we've learned and incorporate into some of the decisions that are being made."
They said the number one goal of their visit is to testify of Jesus Christ. Many hearts were touched as they taught His gospel to congregations and ministered to Church members and missionaries through devotionals, small group discussions, focus groups and personal home visits.
"I felt loved and peaceful after attending Sister Jones' breakout session," said Stacy Chen who attends the Cheras Branch in Kuala Lumpur with her husband and their two children. Chen was spotlighted to lead the group in humming "My Heavenly Father Loves Me," a song from the Primary. "Sometimes when you go to a Church forum, you feel educated or spiritually recharged, but this time was different – I felt loved."
Sister Jones applied the same approach to almost every congregation she visited by having them sing a Primary song to show members how to invite the Holy Ghost to their meetings. She said what Chen felt is exactly what children can feel when they are taught in the home and at Church.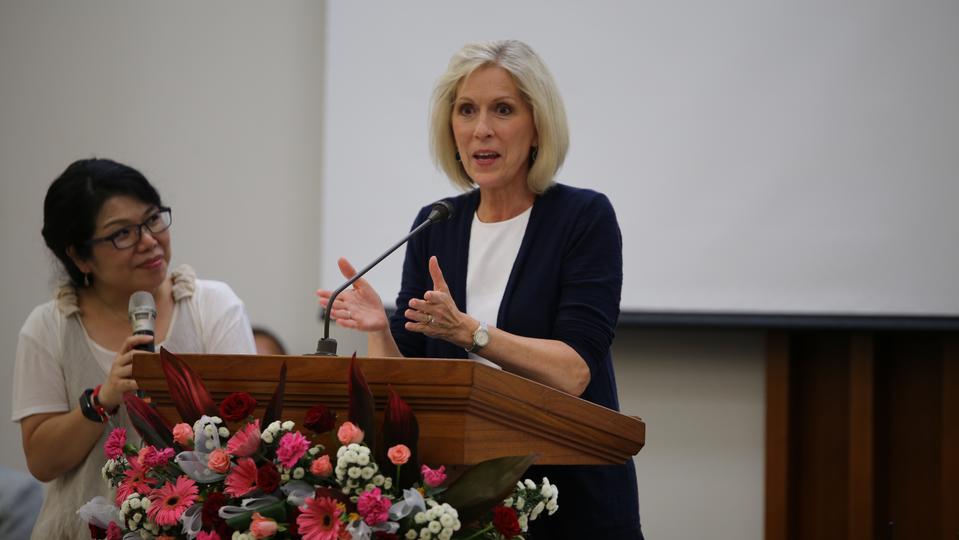 Sister Jones said she understands that family size and class size for Primary and Young Women of the Church in Asia may be smaller compared to the ones in Utah, and the challenges may seem different. Regardless of the various circumstances, every child wants the same thing, she said.
"Love them," Sister Jones emphasized. "And remember the importance of ministering to 'the one.'"
Sister Craig also spoke about how mindful the Lord is of everyone. She reminded the missionaries in Malaysia and Indonesia, "There is no accident. The Lord knows where He is sending each missionary."
In these two countries with predominately Muslim populations, missionary work can be challenging. Having served a mission in the Dominican Republic, Sister Craig encouraged the missionaries, "As we are intentional about being obedient and exercising our faith in Jesus Christ, our imperfect efforts can be magnified."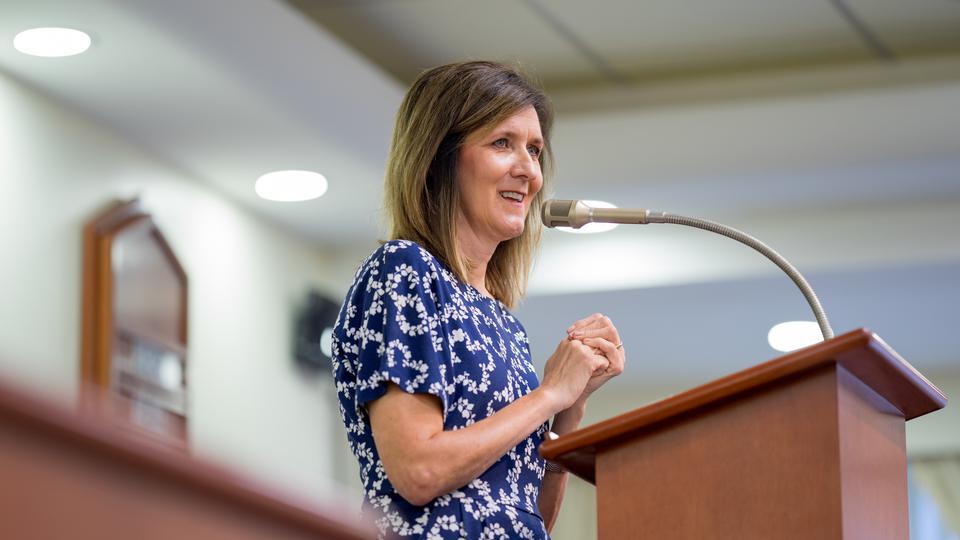 "We can be made equal to the work that has been given us to do," she continued. "We can do hard things!"
Together, they urged the members of all ages to act on their faith, keep the covenants they have made with God and repent – change to be better.
"Decide what you are doing that you should stop doing, and what things that you are not doing that you should start doing," Sister Craig taught.
Elder Homer also shared the importance of making correct choices. "Decisions are the hinges on which the doors of eternity turn. … The blessings of eternity that will be given to you are based on the nature of the decisions you make."
Elder Meurs taught from the Book of Mormon where Jesus Christ ministered to the people in the American continents after His resurrection, especially to the little children. He encouraged members to nourish the little ones by giving them opportunities to grow in the gospel and to guide the young men and young women to minister to and care about others, like the Savior did.
"Coming to the devotional is like a recharge of my spiritual power," said Emily Wang, a young single adult from Ipoh, which is a two-hour train ride from Kuala Lumpur where the sisters were. "Learning that we have the divine potential to be like Him helps me know how I should make my decision for the eternal blessings that have been prepared for me."
Besides ministering to Church members and missionaries, Sister Craig also visited Kowani, a national congress of women's organizations in Indonesia, founded in 1928. There, she met with General Secretary Mrs. Titen Pamuji, Deputy General Secretary Ms. Slamet Effendy and Vice-Chairwoman Lia Tono Suratman. Several division heads of the organization were also in attendance.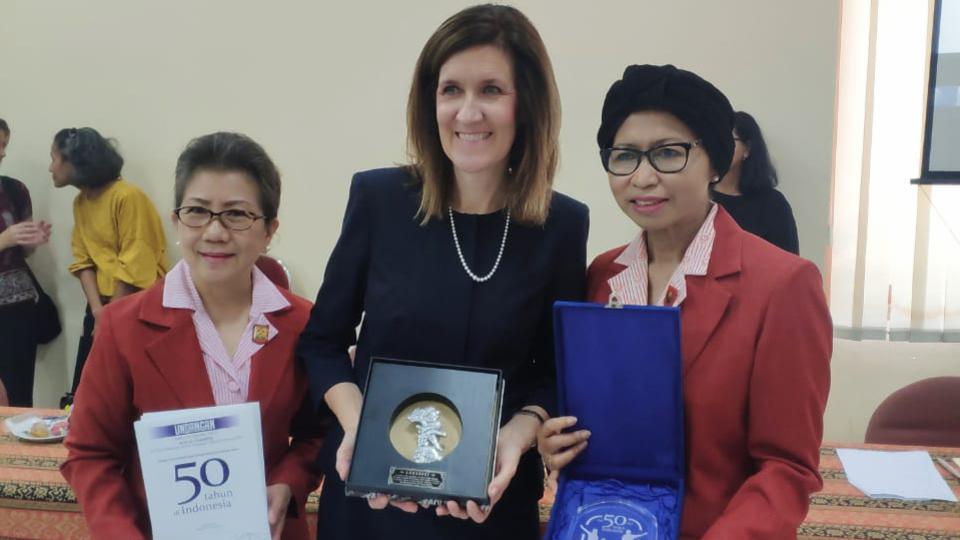 It was a cordial visit as the group discussed shared goals to promote women's roles in society and to prepare women to become leaders.
In Taipei, Sister Jones visited with Tzu Chi, a national foundation established by the Buddhists. The literal translation of its name is "Compassion and Relief"— to minister to those in need, similar to the Church's ministry to help the poor and the needy. Sister Jones was impressed with their presentation as they talked about their medical assistance program for the local elderly, as well as their emergency response effort.
When visiting with the Church members in Taitung, Sister Jones had a unique experience of joining an aboriginal dance with the members. She embraced the culture and people everywhere she went.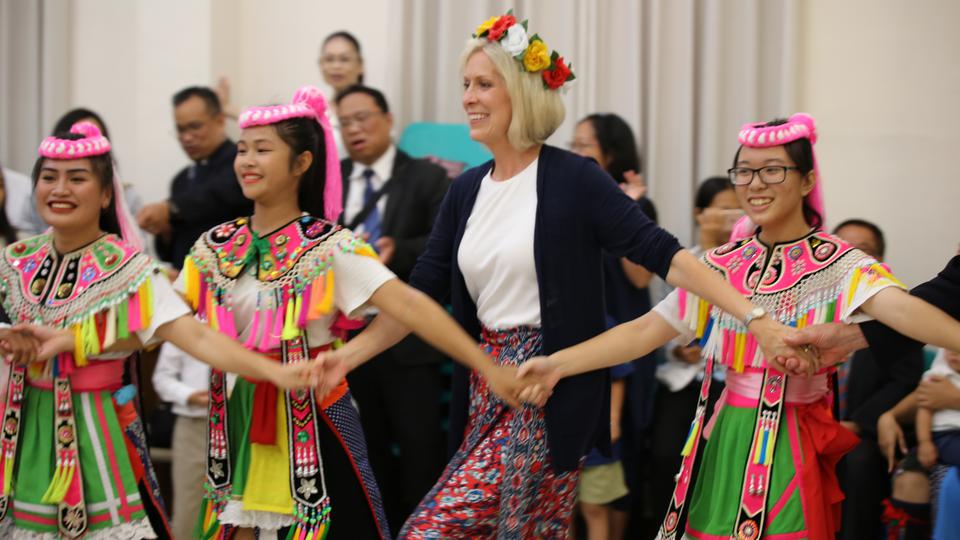 "We love Asia," they repeatedly said throughout their journey. "It feels like home."
Sisters Craig and Jones said this Asia tour was a remarkable experience that they will never forget. As for the people in Asia, Elder Homer commented that every individual and congregation the sisters visited were deeply touched by their kindness, tenderness and compassion – truly, they emulated the love of the Savior, encouraging each to turn their hearts to Him.