The Church of Jesus Christ of Latter-day Saints in Hong Kong kicked off the 2021 Light the World Christmas initiative with a service project on December 4. Together with Foodlink Foundation, close to 100 people (including 80 Church members and missionaries) packaged and delivered 1,000 gift bags (2,000 kg of goods) to underprivileged children in the community.
"I was so touched to see so many Church members of various age groups from different parts of Hong Kong coming to the same place and contributing to the same purpose," said Aurea Yung, head of operations of Foodlink Foundation, the Church's non-governmental organization (NGO) partner for the service project. "Even the little children helped! It warmed my heart to see this whole picture."
The Church mobilized its manpower to complete the packaging in less than three hours. Through Foodlink's connection with other NGOs and local schools, the assembled goody bags have benefited 1,000 children and their families. Latter-day Saints, aligned with the Church's Christmas 2021 theme, hoped their service would help people feel the Savior's love.
"Our faith affects the way we live our life, and we want to spread our influence by doing more good for those around us," said Albert Law, the regional communication council director for the Church in Hong Kong. "We want to leave an impact on others with light and love and motivate them to carry forward that light and love through their reach."
Law wanted more people, especially those outside of the Church, to also join the effort. His desire became a reality when his request for support was answered by various suppliers willing to donate or sell at a lower cost their goods or services. This allowed the Church to increase the donation from 200 bags to a thousand.
Each gift bag includes various snacks, a bag of rice, a children's book, a few masks and a greeting card with a message from the Church.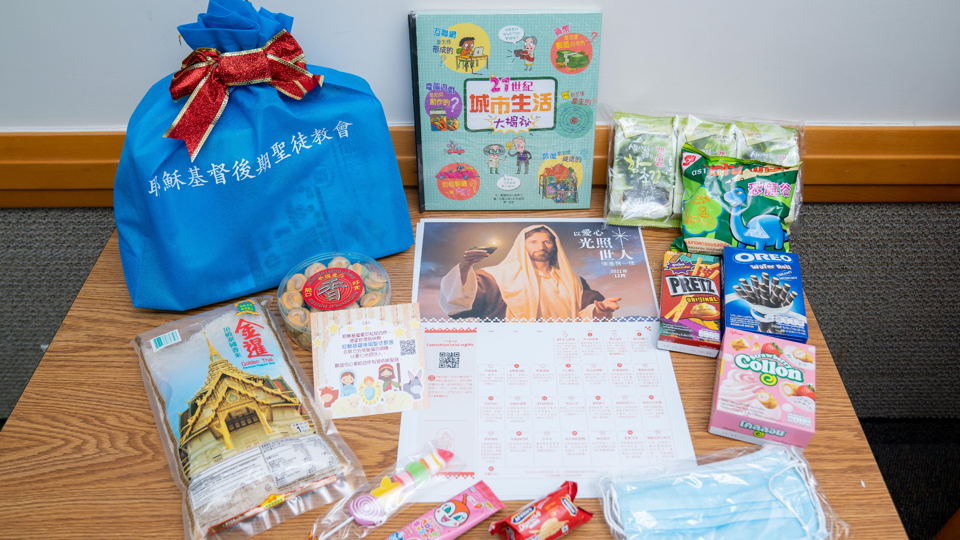 Aurea said although Hong Kong is a very prosperous city, the gap between the rich and the poor is expanding. According to the newly released statistics from the government, almost a quarter of Hong Kong's population lives under the poverty line.
"One in every four children lives in poverty," said Yung. "Many don't even have enough nutritional food to eat, let alone getting a Christmas gift. This goody bag from the Church is indeed a luxury for them, and I'm sure it meant so much to those who received it."
"We hope our action sends a message to the community," Yung continued, "that besides giving tangible donation to those in need, our service can also tell them that there are people who care about them and support them. And that by letting our light shine through collective love, we can make Hong Kong a better place."
This is not the first time the Church in Hong Kong has partnered with Foodlink for a service project. This June, the two organizations collected nearly a ton of canned food for disadvantaged individuals and families. It proves that Christmas is not the only season to do good for others.
#LightTheWorld is an annual invitation from the Church to transform Christmas into a season of service. It's a worldwide movement to touch hearts and change lives through daily kind acts.
Click here to learn more about how to light the world every day.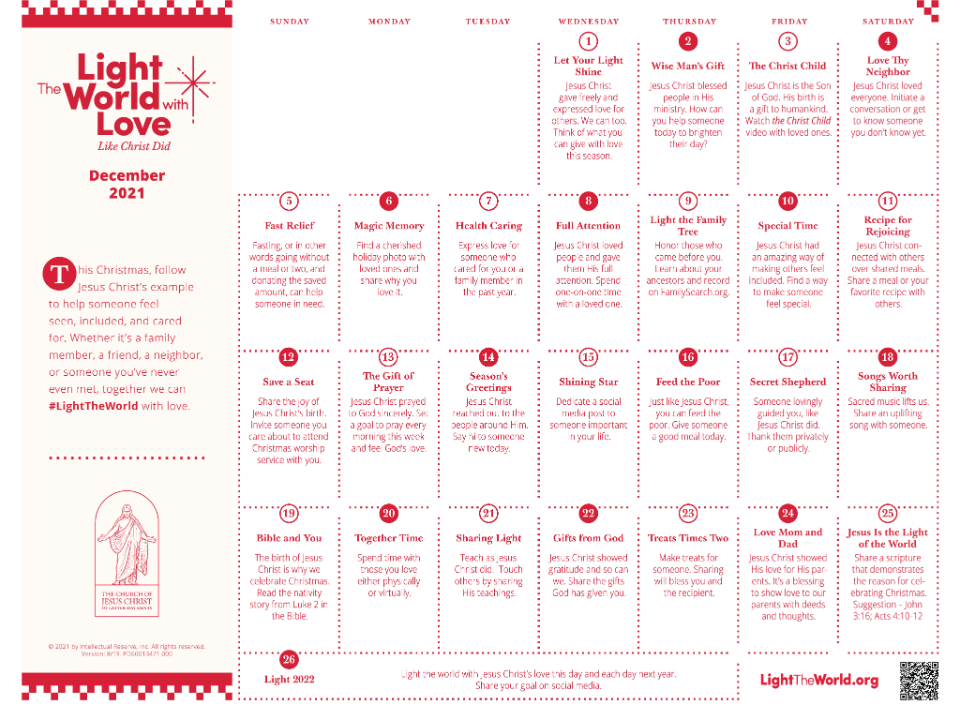 *About Foodlink Foundation: It is a Hong Kong–based charity with a mission to mitigate hunger while reducing food waste at hotels and restaurants in Hong Kong. Beneficiaries include homeless individuals living in shelters, street-sleepers, migrants, asylum seekers, the unemployed, the elderly and disenfranchised individuals/families. For more details about Foodlink, visit foodlinkfoundation.org
Special thanks to Kwan Hong Yuen Trading Co. Ltd., Crown Publishing (HK) Ltd., Culture Homes and Beauty Luck Silk Screen Printing Ltd.