Although the pandemic has made international travel very difficult, it did not stop leaders of The Church of Jesus Christ of Latter-day Saints from ministering to its members. Advanced technology allowed Sister Jean B. Bingham, Relief Society general president, and Sister Camille N. Johnson, Primary general president, to visit the Asia Area virtually from Sept. 4-12.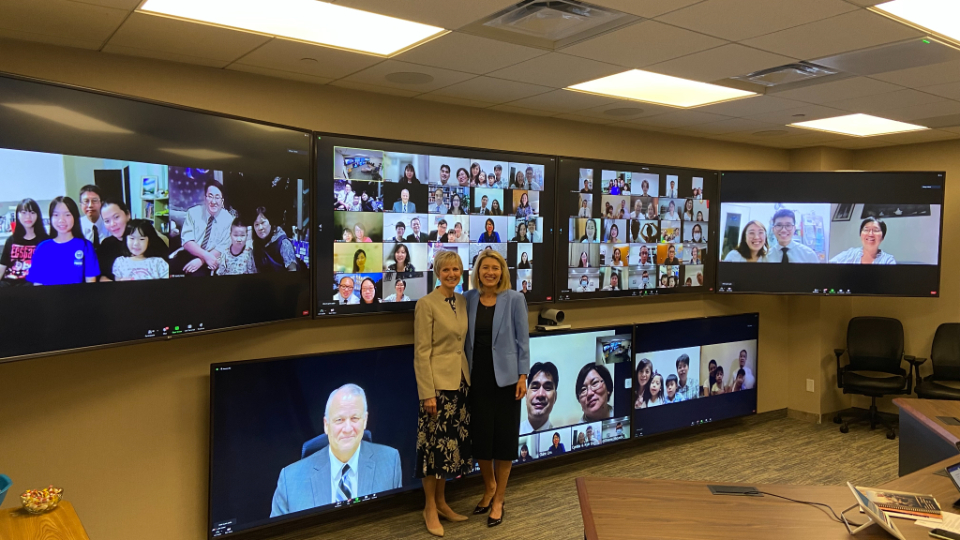 Collectively, they visited 11 countries and regions, including Hong Kong, Macau, Taiwan, Thailand, Cambodia, Singapore, Malaysia, Indonesia, India, Sri Lanka and Pakistan. This was the Area's largest-ever virtual visit originating from Church headquarters in Salt Lake City, Utah. The Asia Area Presidency – Elder David P. Homer, Elder Peter F. Meurs and Elder Benjamin Tai – accompanied both presidents for the tour. 
"We love you," Sisters Bingham and Johnson said to their audience, looking at television screens filled with attendees from all over Asia.  "We see you in your homes and we feel your spirits, your beautiful, radiant smiles. You show us that you have testimonies of the gospel; that's why you are here today."
Their visit aimed to show love and support to local Church leaders, members and friends while strengthening their faith in Christ. They addressed Primary leaders, Relief Society and Elders Quorum presidencies and priesthood leaders, giving practical advice on how to magnify their callings. Their specific counsel to parents of children and youth and Relief Society sisters focused on bringing the blessings of faith in Jesus Christ into daily life. 
In addition to group meetings, both presidents visited with members in their homes. Though thousands of miles away, these Church members said they could feel their genuine love and described the visit as "an unforgettable opportunity."
"We felt the Holy Spirit so powerfully in our home [during the visit]," said the Murdiyanto family from Indonesia. "The most memorable experience was our discussion about the plan of salvation and the talks from the recent general conference."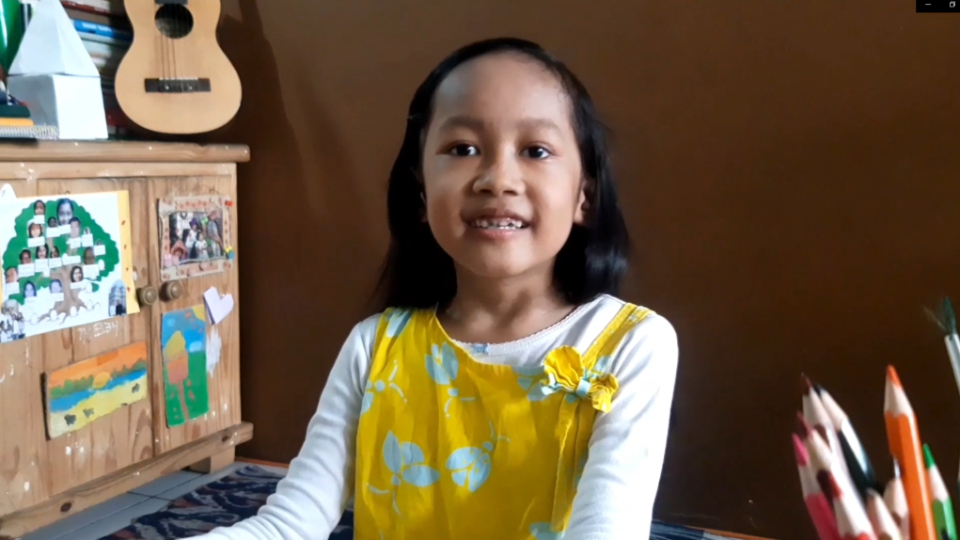 The visit also included Friend-to-Friend broadcasts, which contained a special message from Sister Johnson to children throughout the Area.  This was the first time that children have conducted and prayed in an Area-wide meeting.
When speaking to Primary leaders, Sister Johnson encouraged them to minister to the children daily so that they can feel God's love. She emphasized that visits with the children should be frequent, short and simple. This was echoed by Elder Tai who shared his own experience and said personal interaction make a big difference in children's lives.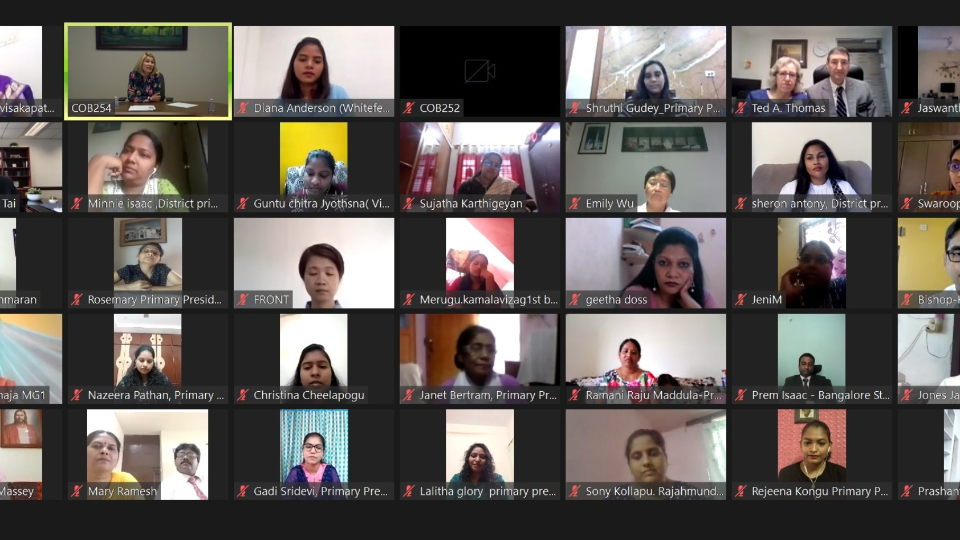 Sister Johnson also taught Primary leaders to create an environment where the Spirit exists, "When the Spirit is there, stop and ask the children what they're feeling. I'm confident that if we do that, we will prepare a generation of young people who know what the Spirit feels like and know how to be guided." 
This principle was again emphasized when she spoke to the parents of children and youth with Sister Bingham about "Revelation, Relationship and Agency." They taught that not only is it important for the rising generation to learn how God speaks to them, but also to build Christ-centered relationships and know how to set goals and make plans for themselves. They encouraged parents to make daily gospel teaching at home a priority and emphasized the Children and Youth Program is a wonderful resource.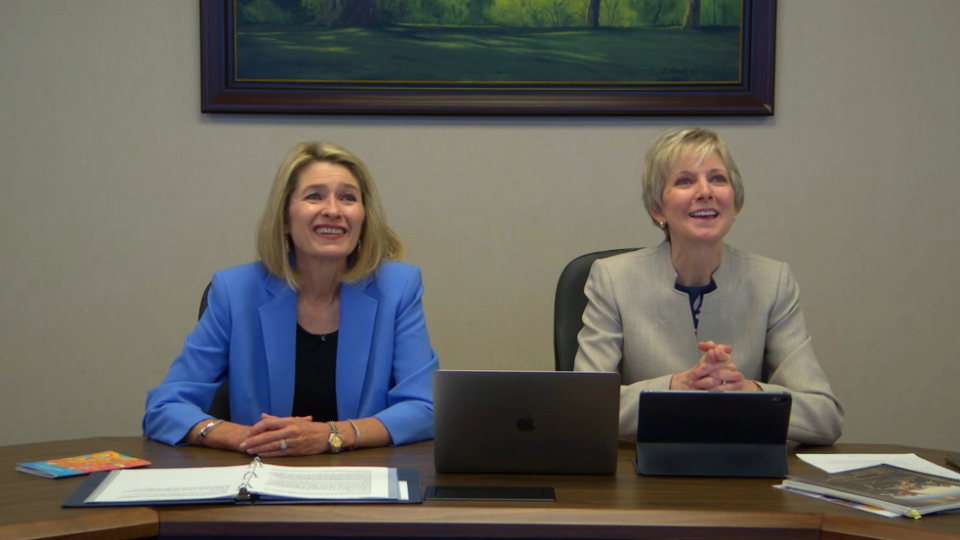 The sisters said that the work of salvation and exaltation may sound difficult for some to comprehend, especially the little children. They shared four simple points which highlight how Latter-day Saints manifest their faith: 
Live the gospel of Jesus Christ
Care for those in need
Invite all to receive the gospel
Unite families for eternity 
When training the presidencies of Elders Quorum and Relief Society, Sister Bingham said, "It is important to understand that both men and women operate under priesthood keys."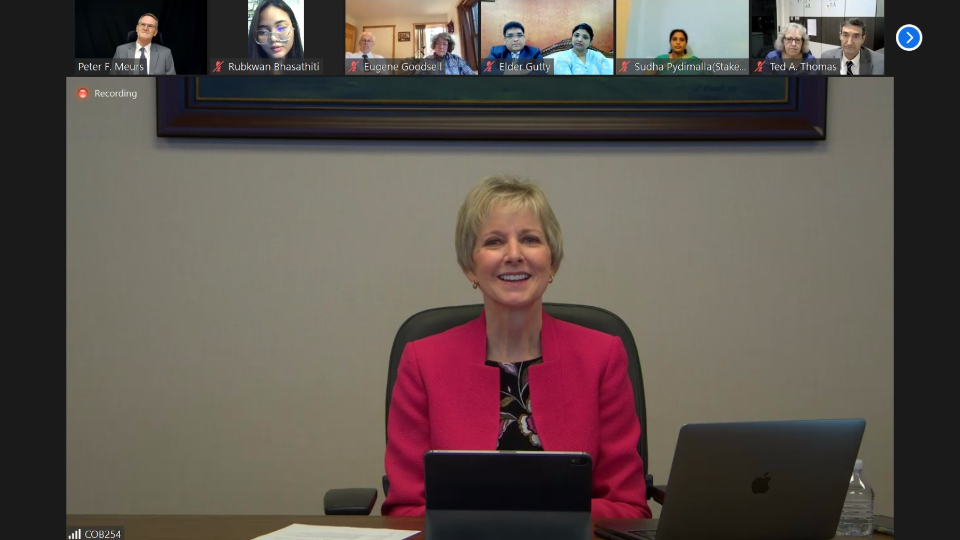 She encouraged the priesthood and sisterhood to work together in harmony and showed how ministering interviews can lift, inspire and motivate.
Elder Meurs added to Sister Bingham's teachings by quoting from the Prophet Joseph Smith, "This interdependence of men and women in accomplishing God's work through His power is central to the gospel of Jesus Christ." 
The tour ended with a Relief Society devotional, which was the largest meeting, covering seven countries and regions with about 2,000 participants. Speaking to women in the Church across Asia, Elder Homer reminded the audience that President Gordon B. Hinckley once taught that "Woman is God's supreme creation."
"Sometimes people, sometimes society, treat women as if somehow they're not as important as the men in the world," he said.  "It seems to me that the Church's doctrine is completely opposite of that."
Sister Bingham reminded all the sisters that women have an immeasurable influence on families and the Lord's Church.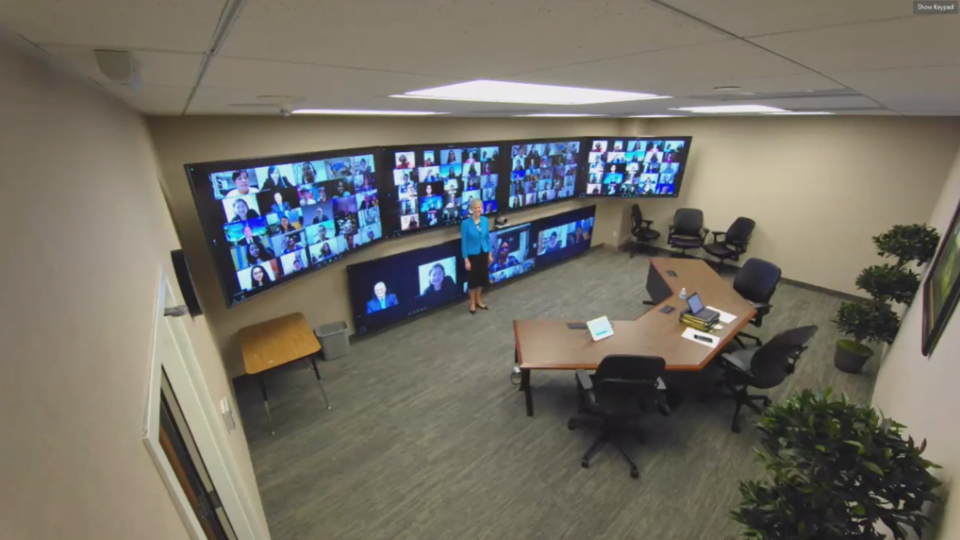 However, she said sometimes women compare themselves with others, leading them to dissatisfaction and disharmony. She counseled the sisters to avoid the distractions of the world, stop thinking they are less than what they are, and to eliminate contention from their lives.
"Centering thoughts and actions on Jesus Christ will help us find ways to lift others as well as ourselves, and act in a higher and holier way," Sister Bingham said. 
She left the audience with two questions: 
What can you do that will help you remember eternal priorities? 
What can you do to decrease contention among those who live and work with?
She concluded by reassuring women of their personal worth and reminding them that they have unique gifts to bless others and help establish God's kingdom on earth. 
"Your potential is unlimited," she said. "You remember who you are, why you are here on the earth, and where you want to go, you will be able to accomplish through our Saviour Jesus Christ all that you have covenanted to do."