From August 2-7, youthful Hong Kong members of The Church of Jesus Christ of Latter-day Saints enjoyed the first "For the Strength of Youth" (FSY) conference held since the onset of the pandemic. The theme for the Hong Kong FSY was "Wherefore, be not weary in well-doing, for ye are laying the foundation of a great work."
"The future of the Church in Asia rests with the sustained faithfulness of our young people," said Asia Area President David P. Homer who oversees FSY for the Area. "Participating in FSY is a great opportunity for them to feel the spirit and strengthen their faith. FSY is one of the most impactful things we can do for our young people—both youth who attend and YSAs who lead are blessed."
The Church holds 6-day FSY conferences to bring together youth, aged 14 to 18, from a single country or specified area. They are taught by Church leaders and young single adult (YSA) counselors, aged 18 to 30, who give a week of their time to serve without pay.
During FSY week, youth were taught principles regarding how to live happier lives, including studying the gospel, seeking understanding by asking questions, seeking answers through prayer, and sharing their experiences with others. Through devotionals, classes, and other activities, their knowledge of Jesus Christ and His gospel deepened. They were reminded of who they are, their true potential as sons and daughters of God, and the plan of salvation for all of God's children. They were taught to catch the vision of their full potential, to set life goals, and to work diligently to achieve them.
This was the first bi-lingual FSY in Asia. Although conducted in Cantonese, translation was provided to English-speaking youth. All participants, including 170 youth, 40 YSA counselors, and all adult leaders, followed the city's COVID-19 regulations closely, wore masks throughout the day and used sanitizer liberally and frequently.
FSY has such a great reputation with the youth in Church that less active and even non-Church friends of our youth proactively asked to attend.
FSY Builds Faith and Testimonies of Christ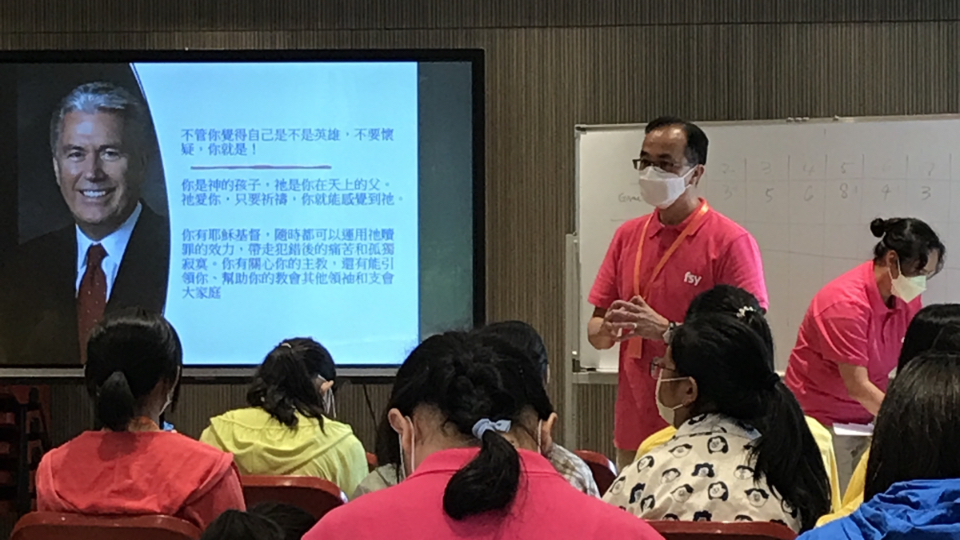 "For many, this was a life-changing event!" said Area Seventy Elder Alan Cheung. "Throughout the week, our youth were able to participate in various social and spiritual activities that strengthened their faith and testimony in Jesus Christ."
A young woman shared, "FSY strengthened my testimony of Christ and made the gospel clearer. Teachers gave us tips on how to be better disciples, how to read and ponder the scriptures, and how to share the gospel naturally without being afraid. We also learned a scripture that God helps us to share the gospel."
Participants were also taught that God loves them perfectly, and that they can communicate with Heavenly Father through prayer.
"Sister Au gave a great class on God's love," another youth said. "I know we all have down times when we are lonely or depressed. It is good to know God is always at our side no matter what happens."
A young man said, "FSY really helped me in the way I read scriptures. Now I know I should ponder and think about what I'm reading. Then pray after reading and write notes of what I learned through the spirit."
Lessons learned and New Friendships

In one of the classes, Elder Peter F. Meurs of the Asia Area Presidency and his wife Maxine spoke about medals won by the Hong Kong Olympic team at the Tokyo games. They said while only the top three individuals or teams can win medals in the Olympics, eternal life is available to all of Heavenly Father's children through ordinances and obedience. Sister Meurs then related how spiritual, intellectual, physical, and social goals in the Church's Children and Youth program can help youth progress on the covenant path.
Elder Meurs continued with the same theme, teaching the youth that eternal life is God's greatest gift and whether we "choose" to keep His commandments is the key to obtaining that gift.
Although enduring to the end is not easy, he said, "Heavenly Father is on your side…The Savior understands every challenge of ours and through His help, we can change and overcome the natural man and make our weaknesses become strengths."
He reminded the youth of the importance of partaking of the sacrament. It is a time for remembering our baptismal covenant with God. These spiritual moments all add up to help us choose to follow Jesus Christ.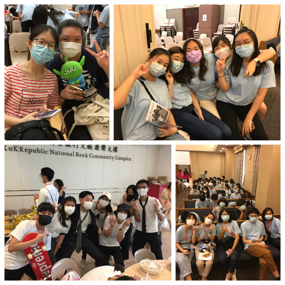 The youth grew spiritually and learned important life skills at FSY, which helped them realize there are others just like them who believe in Jesus Christ, receive blessings, have challenges, and are on the same life journey. They changed and matured spiritually as they spent more time searching the scriptures and serving others. The spiritual and service activities helped them to learn to spend more time looking upward to God and outward to serve others.
Brother Leon Au and Sister Joyi Au, the FSY session directors, stated, "For long-term growth, when youth come to FSY they mingle with other youth who share the same beliefs, principles, faith, and spirit. After attending FSY for the first time, they have more relationships with friends who can strengthen each other generally in life and in their faith in the gospel of Jesus Christ. The youth learn skills, have fun activities, and make lots of friends. They have a chance to talk with each other about their faith and their challenges. They exchange phone numbers so they can chat after FSY. It helps them to be less lonely."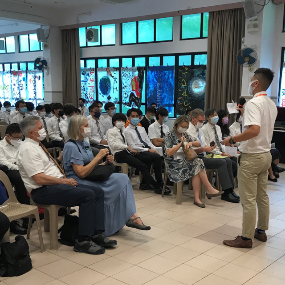 The YSA counselors also commented on friendship. One said, "The youth develop friendships that are loving and inspiring, despite knowing each other only one week. And because they share the same standards, beliefs, faith, and spirit, they gain true friendships. They gain confidence that there are lots of other young people just like them."
One bishop shared the fact that he had only one young woman in his ward old enough to attend FSY, "When she was asked to speak and bear her testimony in the next Sunday Church meeting regarding her participation in FSY, she had five new FSY friends sitting in the congregation to support her."
Participants took time at the end of each day to reflect and review the activities and lessons learned and to set personal goals on how they would incorporate the lessons into their lives. Through the week, youth developed friendships with others as they worked together in various activities, competitions, dances, talent shows, and service projects. They demonstrated concern for others and made sure that their peers were having a good time.
YSA Counselors' Impact on the Youth
Elder Cheung said, "We express our deepest gratitude to all those who participated in this great event, especially our session directing couple, Leon and Joyi Au, our YSA counselors, and the logistics committee. The event would not have been successful without their dedication and their love for our rising generation."
Elder Meurs also praised the YSA counselors for their contribution, "They went above and beyond our expectations, blessing the youth with their testimonies and personal experiences. They were magnificent!"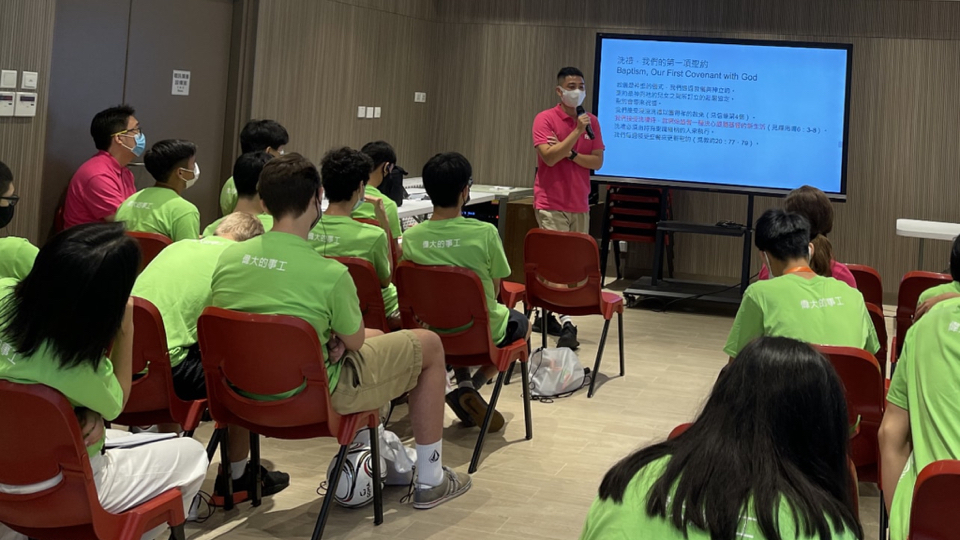 The youth were touched by the YSA counselors' love and understanding of the Savior and His gospel. One young woman reported, "FSY helped me to learn and change. I had repented, but I struggled because I kept remembering I had done wrong. Sariah my counselor shared with me that once I repent, I can forget and move on. I feel a lot better now."

Another youth said, "We really liked the testimony meeting. It was good to hear the YSA counselor's testimonies."

A female YSA counselor shared, "FSY helped the youth to decide to serve missions. It also strengthened their bonding and their faith. Many girls were very shy at first. But their group helped them to gain confidence and to build their faith in God. This same feedback was even shared by a girl who is not a member of our Church who was invited to attend by a friend. Boys raised in the Church who already had a goal to serve a mission helped new converts and other less active youth to want to go on a mission too."

The Power of "Preach My Gospel" (the Church's Guide to Missionary Service)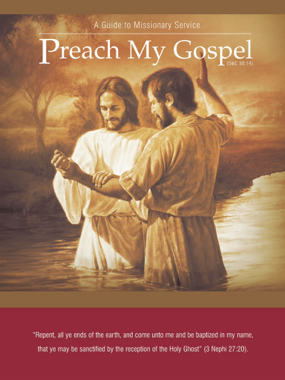 "The activity that had the most life-impact on the youth was the 'Preach my Gospel' program," one YSA counselor said. "Youth get a feel for what it's like to teach a lesson like a missionary. As they teach, they can get the spirit of Abraham and know what Heavenly Father wants them to do. When they teach something, they internalize it, and it means more to them."
Another YSA counselor agreed, "'Preach my Gospel' had the greatest life impact. Youth really liked it. I would also add the evening testimony meeting. The youth who shared their testimonies early in the meeting impacted others who testified later. Many were recent converts."
The last YSA counselor interviewed said, "FSY is a very good program for the youth. It also provides a platform for the YSA's to apply what they learned on their missions. They learn more about planning good activities for youth and how to teach the youth both spiritually and temporally, as well as how to keep on a schedule. The most life changing impact was from the 'Preach My Gospel' class. Several of the youth said they felt very special after receiving their name tags. They said it changed their minds about serving a mission."
Spiritual, Emotional, and Social Growth
Some youth came the first day a little shy and uncertain as to what they would experience. They were then assigned to small groups to work, study, and attend classes together throughout the week. Activities and classes helped them grow spiritually as they committed to strive to follow their Savior and strengthen their faith in Him. As the days passed, they bonded and grew socially as they learned together and grew in their love and friendship for each other. They worked together to accomplish goals during activities and to strengthen teamwork, which contribute to emotional growth and maturity.
"The last day they shared testimonies of their Savior, Jesus Christ, with each other," Elder Bryan Sudweeks and Sister Anne Sudweeks, the Asia In-Area FSY advisory couple, shared, "Their testimonies were truly amazing. These are wonderful and talented youth with unlimited potential and strong testimonies of Jesus Christ. The Lord loves them and will direct their paths for good. The Church in Hong Kong will be in good hands in the future because of the greatness of the youth who participated in FSY. The fun comradery, friends made, and spiritual growth achieved were remarkable. Their increased confidence and sense of self-worth were very evident to adult leaders and their YSA counselors."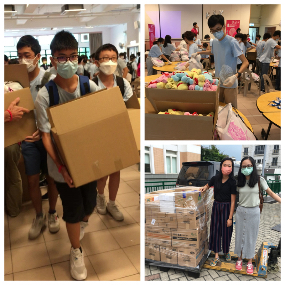 Serving as Christ Served
The youth completed a major service project to bring some joy and excitement to elderly people in multiple rest homes. They practiced performance programs, which were presented via live feeds to rest homes. They also put together 400 personal hygiene kits for those elderly residents.
Parting Comments as FSY Concluded
Elder Sudweeks said, "'For the Strength of Youth' (FSY) truly is the Lord's program to help the youth of the church to grow and progress in life. What a privilege it was for anyone who was blessed to be a part of it."
Every young man and young woman interviewed said they plan to attend the next FSY and want to encourage Church friends and non-Church friends to attend as well. One young woman, who had delayed being baptized despite her father's consistent activity in the Church, returned home and told her bishop she wanted to be baptized right away.
"We had lots of fun!" A youth said. "We would definitely recommend FSY to friends next year. Attending FSY helps our non-Church friends get to know us better. Some of them were here. Friends from school get to know us better for who we really are – LDS youth."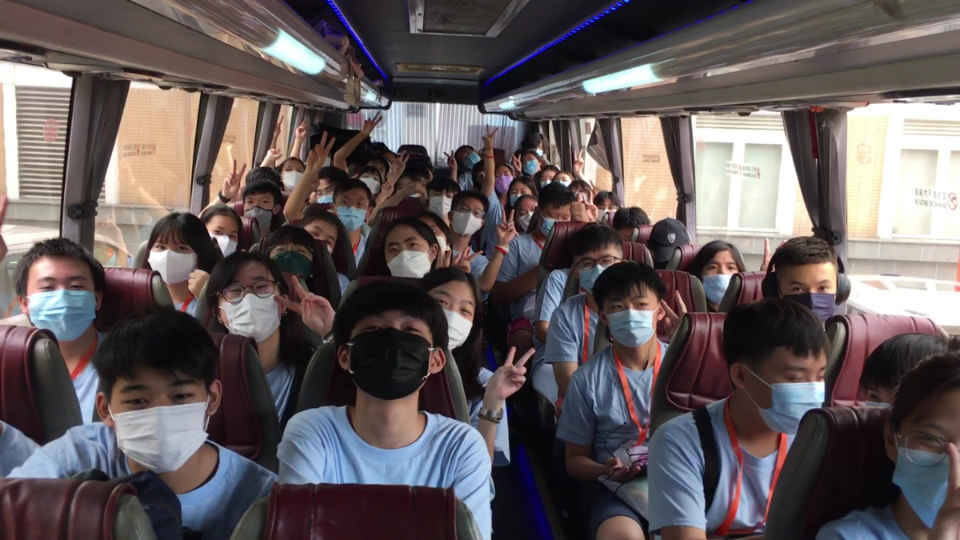 An excited youth, looking forward to the next FSY, said, "We need a larger place so more kids can come to FSY!"